A comedian has been suspended from Twitter following a vile joke about Greta Thunberg...

It seems some people will do anything for a laugh.
Including telling vulgar jokes about eighteen-year-olds.
Comedian, Lee Hurst, took to Twitter over the weekend to make a "vile" comment about Greta Thunberg, but it hasn't received the response he might have expected...
As fans have criticized him and Twitter has suspended his account.
But, he still doesn't regret his actions...
Keep scrolling to see what he said.

Now, who is Greta Thunberg?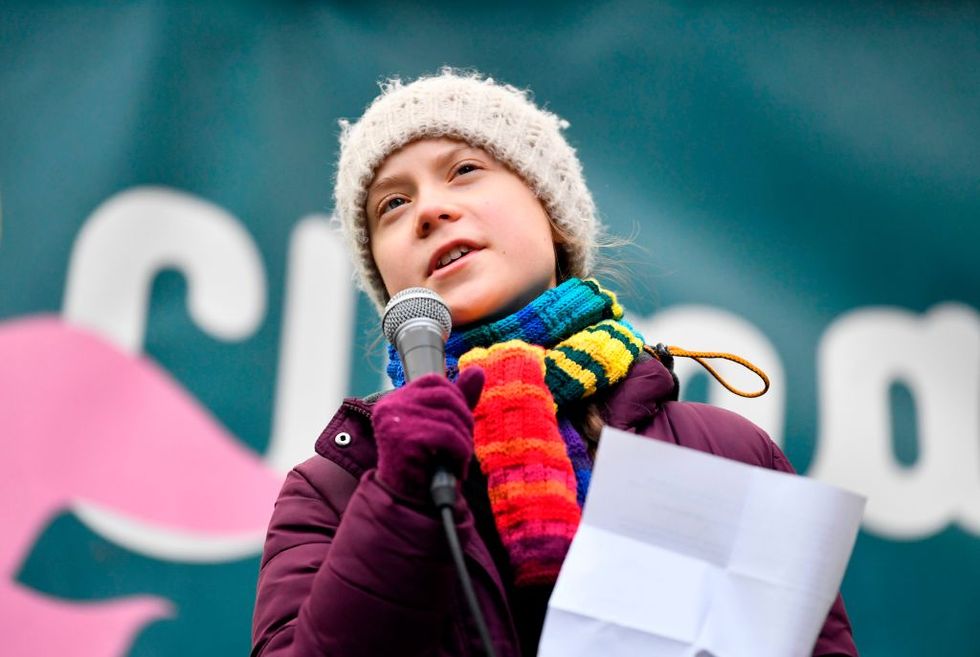 Getty
Seemingly out of nowhere, Greta Thunberg became one of the biggest names in the world and now, years later, the young activist continues to dominate headlines.
But where did it all begin?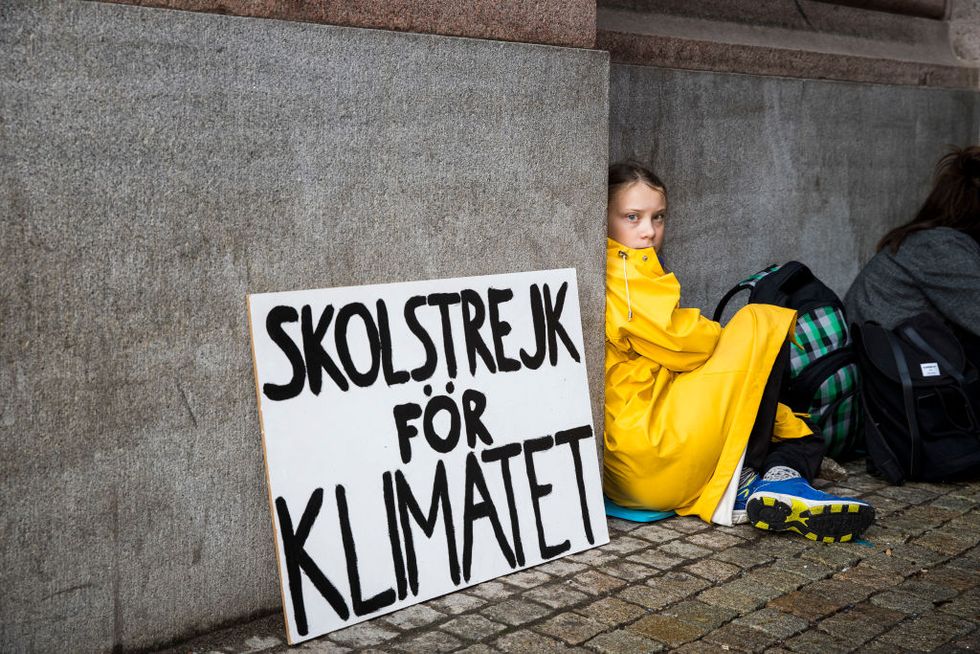 Getty
Starting one day in August 2018, a then fifteen-year-old Thunberg decided to skip school to sit outside Sweden's Parliament in Stockholm with the simple sign, "Skolstrejk För Klimatet" - translating to "School Strike for Climate."
For 3 weeks, the teenager would sit in silent protest outside of Parliament alone...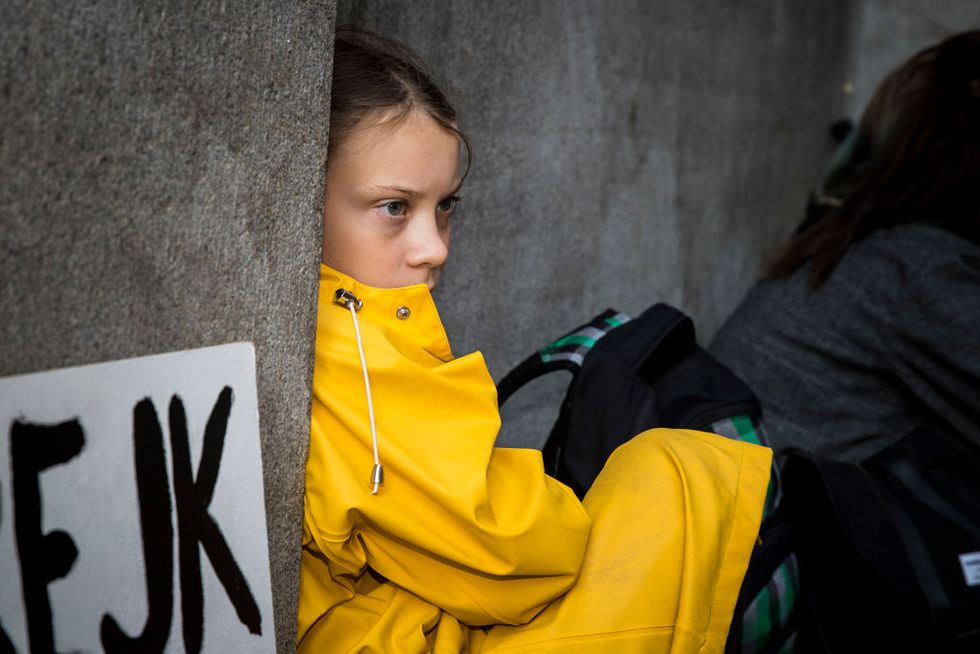 Getty
And vowed to not stop until her government had done something about the climate change crisis. And it didn't take long for her message to catch on.
Photos of the teen sitting in protest went viral on social media...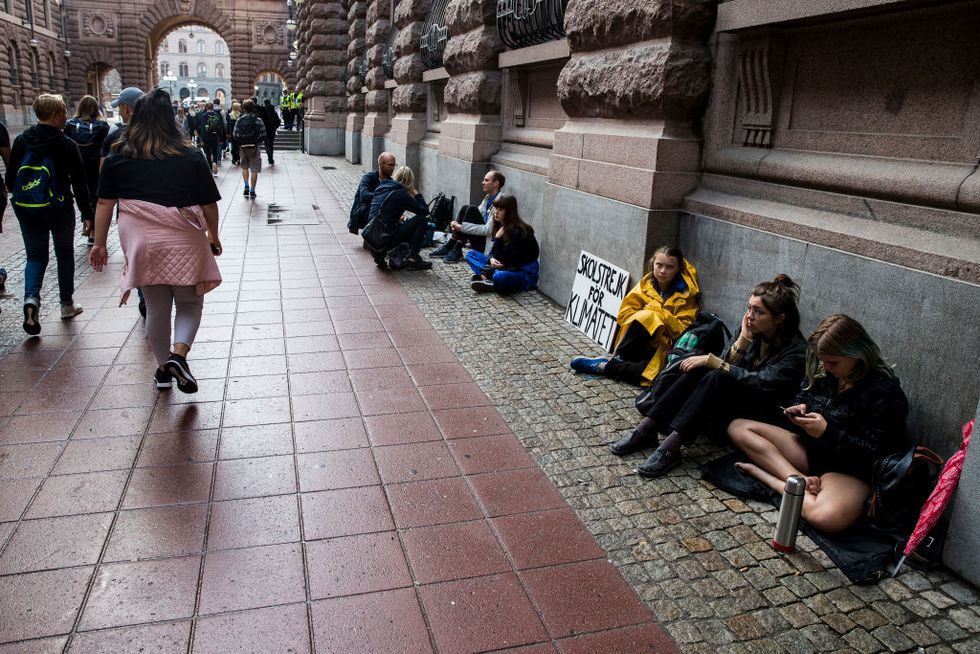 Getty
And, suddenly, millions of people were inspired.
Within a year, her message had spread like wildfire...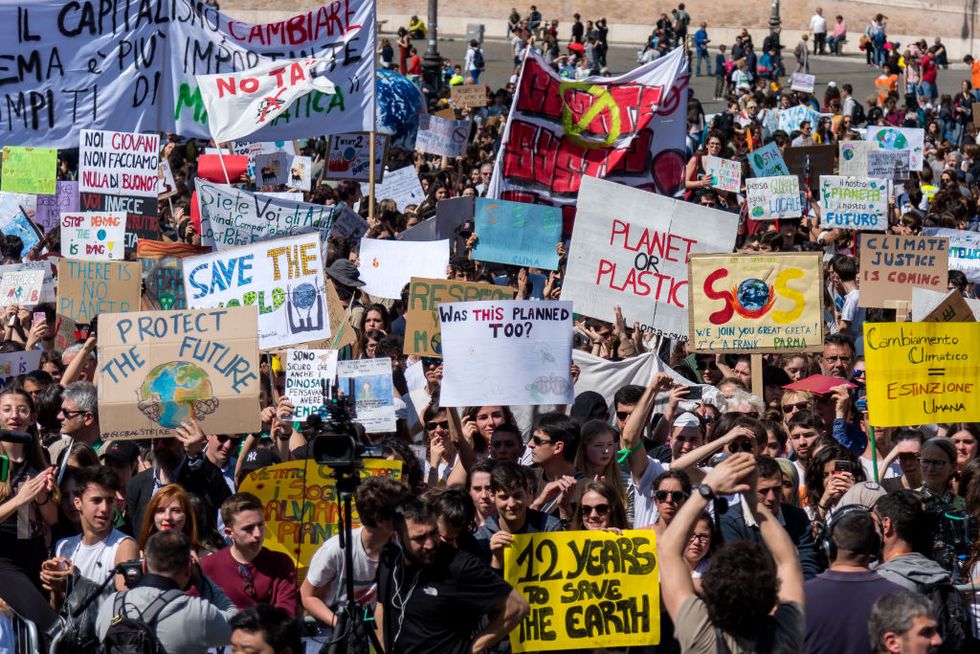 Getty
And millions of people all over the world had taken to the streets to fight against climate change.
2019 was a whirlwind year for the teenager.
Her damning speech went viral...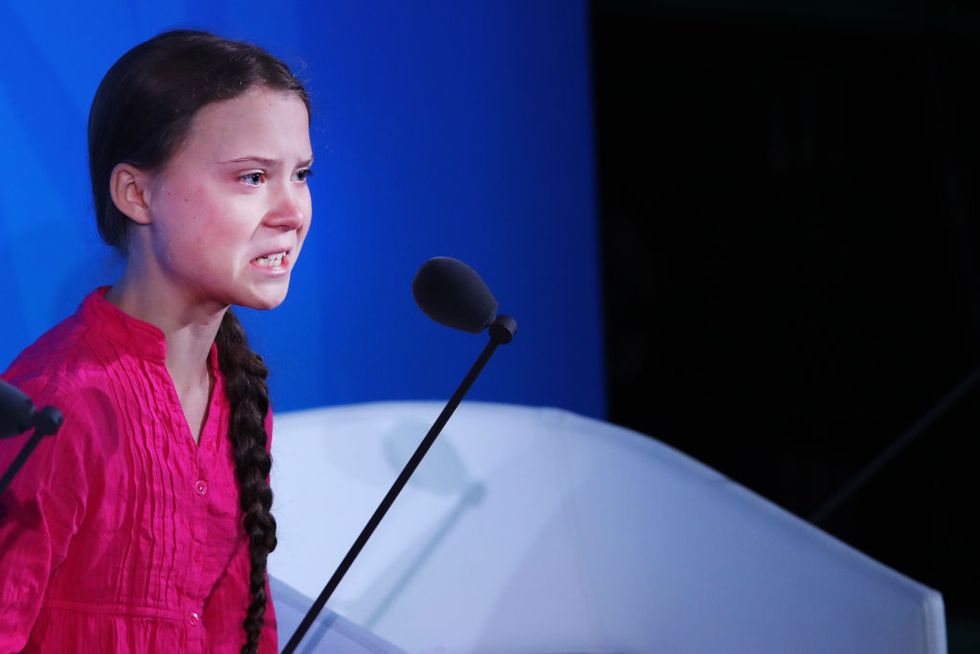 Getty
The activist blasted world leaders and politicians for their lack of action regarding climate change. "How dare you," she exclaimed. "I shouldn't be up here. I should be back in school on the other side of the ocean, yet you all come to us young people for hope. How dare you?"
So, fast forward to 2021...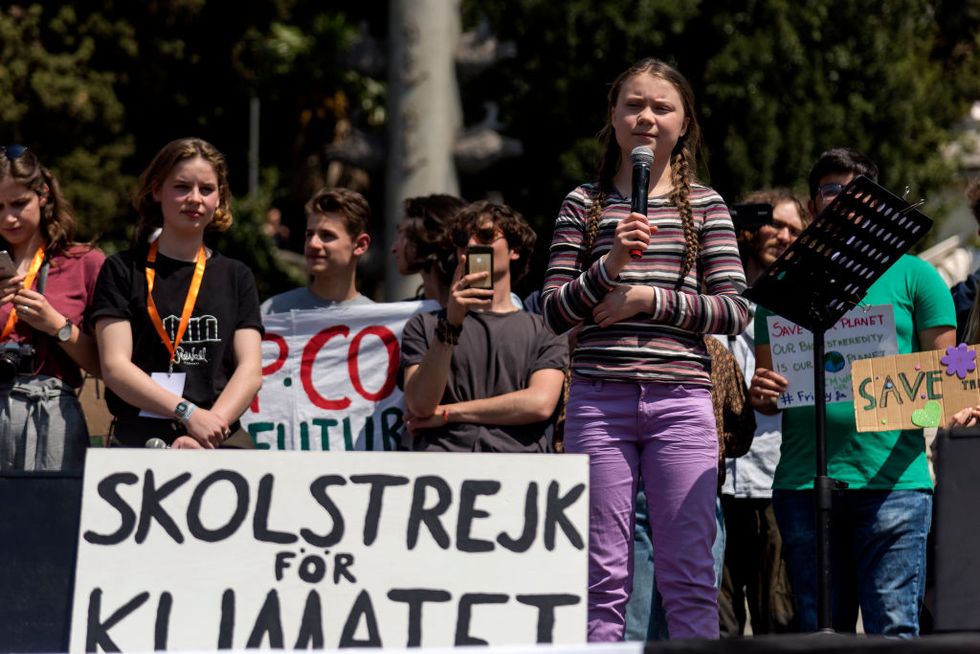 Getty
Thunberg has become somewhat of a household name.
She was nominated for the Nobel Peace Prize last year...
She has risen to unprecedented levels of fame...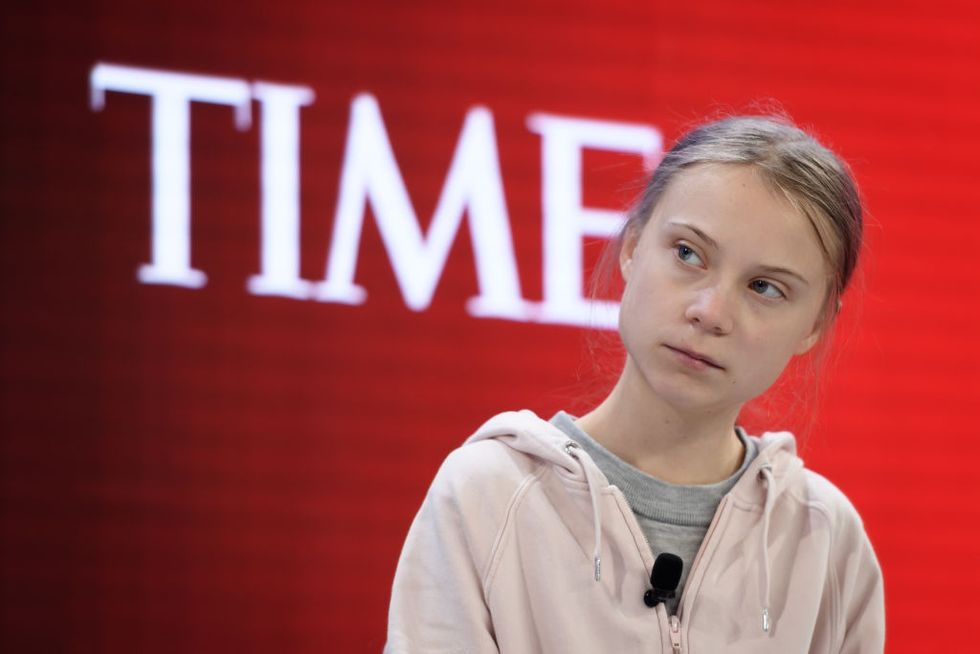 Getty
And her unwavering commitment to saving our planet continues to inspire people to live more sustainably every day.
And, to kick off 2021, she was in the headlines once again...
After getting involved in the divisive world of U.S politics.
Of course, we all know that Thunberg didn't agree with former president Donald Trump's policies on climate change...
Getty
Especially
when he made the decision to pull out of the vital Paris Climate Agreement.
But now that President Joe Biden has taken over...
Getty
Thunberg spoke of her joy of the U.S rejoining the Paris Climate Agreement.
She's happy that the U.S is finally making progress.
YouTube
"I am more than happy that the U.S will rejoin the Paris agreement; that is absolutely crucial,' Thunberg told CNN, before explaining that more world leaders need to "start treating the climate crisis as a crisis."
It's more vital than ever to start making changes...
YouTube
"We need to communicate the situation where we are, we need to understand that we are facing an emergency," she added. "We need to change the social narrative around this, and of course as young people, we would really appreciate it if we stopped only talking about future, distant hypothetical goals, and targets, and start focusing on what we need to do now."
She then explained that setting future goals of net-zero carbon emissions will only pass on the responsibility of solving climate change to the younger generation, by which time it could be too late.
Getty
"We don't want to solve these problems for you; we want you to take care of it right now because you are destroying our futures right now," she said.
And this week, Thunberg has yet again hit headlines, but for another reason.
As she became the target of a vile joke that left the internet furious...
What seems most unsettling about Lee Hurst's joke is that despite her being technically of adult age right now, the enduring public image of Greta Thunberg in the public's mind is much, much younger. To be projecting raw adult sexuality on her for comic effect is... unpleasant.

— Chris Glaister (@glaist) March 20, 2021
Just saw the comment Lee Hurst made about Greta Thunberg and I feel sick to my core.
If some public figures ever make such a public comment about my teenager, I'm coming after them.

— Herve DESPOIS (@hervedespois) March 20, 2021
Aside from Lee Hurst's tweet being painfully unfunny, attention-seeking, creepy, inappropriate, heteronormative codswallop, it's also emblematic of a cohort of middle aged men who genuinely seem to think they can solve the world's problems with their genitals.

— Natasha Devon 🌈💙 (@_NatashaDevon) March 20, 2021
In the wake of the Sarah Everard tragedy, women across the country are finding the courage to speak up on their experiences of sexual harassment and assault. Lee Hurst chose this moment to sexually harass someone young enough to be his granddaughter. Part of the problem.

— I Like Cheese - BLM! (@AwareFlange) March 20, 2021
Depressing to see Lee Hurst still trending, but here are the salient points. He was 40 when Greta Thunberg was born. He has made a sexually explicit joke at the expense of a girl of just 18, at the age of 58. She will see it and her parents will too. Is that funny?

— Francis Cottam (@fgcottam) March 20, 2021
Comedian, Lee Hurst, was suspended by Twitter following his tweet about Thunberg.
The first time that Lee Hurst has made me laugh pic.twitter.com/CnvyVTKU8q

— Tim Burgess (@Tim_Burgess) March 20, 2021
Speaking about the incident with The Daily Star, Hurst, 57, explained that he was first informed by Twitter that his tweet had been reported but no action was to be taken.
He then received a second email stating that his account had been suspended as he had gone against Twitter's rules on abuse and harassment.
Hurst also revealed: "I've appealed, but heard nothing yet."
His tweet read: "As soon as Greta discovers c***, she'll stop complaining about the single use plastic it's wrapped in."
For more on Thunberg, keep scrolling.
Related Articles Around the Web