Prince Harry had a request for the Queen back in November, and it looks like it didn't go down very well...
It seems there's no end to the Meghan and Harry royal drama...
Because this week, there's been yet another claim of a feud between Queen Elizabeth and the couple... but this may be the worst yet.
It all concerns Remembrance Day back in November...
And it's been reported that Harry's plea didn't exactly go down very well with his royal grandmother.
Now, the Duke and Duchess of Sussex worked tirelessly together to fulfill their royal duties...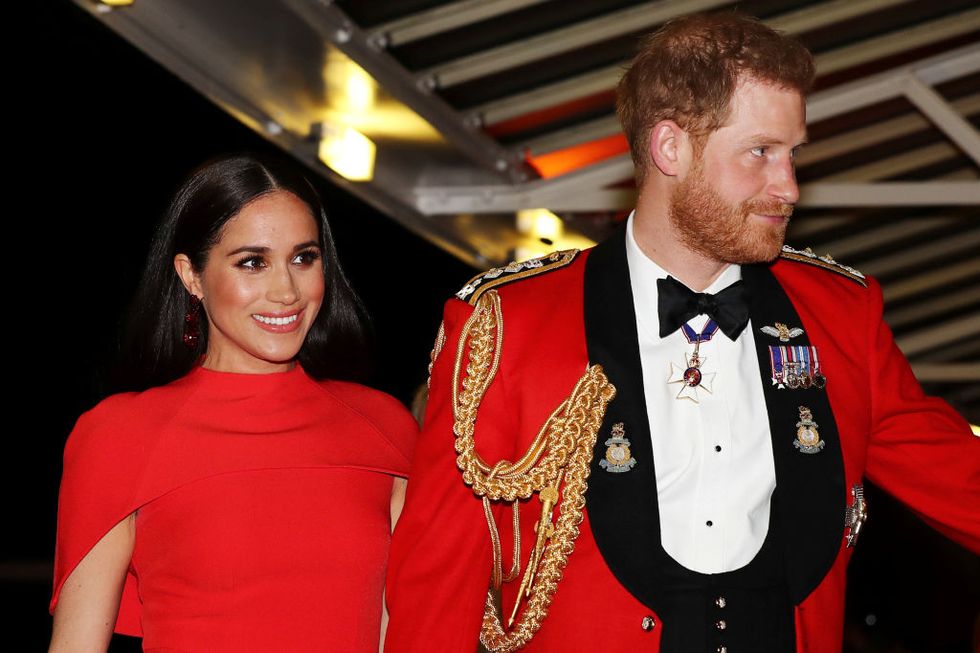 Since their highly-publicized wedding in 2018, the couple took part in many royal tours and visits all around the world.
Naturally, the world fell in love with the new duchess.
Her beautiful looks and elegant demeanor captured hearts all around the world, and her work for feminism and women's charities has set an excellent example within the royal family.
Cracks began to show early, however...
Meghan was quickly criticized upon her entrance into the royal family, and not all the complaints were because she "wasn't royal enough." A family feud with her father,
Thomas Markle
, was quickly made
very public
and, when he didn't attend the wedding, the heat was turned onto Meghan.
Meghan was also been branded a "diva" by numerous sources since she became royalty.
Reports came through that Meghan was extremely high-maintenance in the palace and servers who worked for her had reportedly even quit their jobs due to her behavior. Of course, none of these reports are reliable, but they certainly made their way through newspapers around the world.
Meghan's parenting style was also criticized.
totally relate to. Shaming a new parent is completely uncalled for, and this made it very obvious that the press were desperate to stir hate.
Meghan's eventful life was something that the papers simply loved to pick apart...
And it seemed that British tabloid paper, The Mail on Sunday, took things a step too far when they published an intimate and private letter that Meghan wrote to her father earlier this year.
The pair had no choice but to take legal action against publishers of the Daily Mail...
This decision came as Prince Harry made a highly personal attack on the British tabloid press over the treatment of his wife, saying that he could "no longer be a silent witness to her private suffering."
And it was following from this scandal that the couple made their shock announcement.
The royal couple announced via their joint Instagram page at the start of 2020 that they were stepping down as senior members of the royal family. "After many months of reflection and internal discussions, we have chosen to make a transition this year in starting to carve out a progressive new role within this institution. We intend to step back as 'senior' members of the Royal Family and work to become financially independent while continuing to fully support Her Majesty The Queen," the post read.
The couple explained how they planned to split their time between North America and the UK.
This was a huge deal...
And, obviously, their decision shook things up. "We look forward to sharing the full details of this exciting next step in due course, as we continue to collaborate with Her Majesty The Queen, The Prince of Wales, The Duke of Cambridge, and all relevant parties."
Twitter exploded with reactions to the news, and they were certainly mixed.
It's perfectly ok for Harry & Meghan to step back from royal duties. Clearly they're not happy. What's not ok is c… https://t.co/m3dwC1ifSK

— common sense (@common sense)1578554305.0
Some were outraged, claiming that Meghan and Harry shouldn't be able to rely on the taxpayer while they become finically independent.
Apparently, the pair didn't tell anyone about the news, instead opting to break it through Instagram.
BBC
, no other senior members of the royal family were consulted - including the Queen - and Buckingham Palace was "disappointed." The report also claims that senior royals were said to be "hurt" by the controversial announcement.
But can they really blame Meghan and Harry for making this decision?
The couple,
especially
Meghan, have received an unbelievable amount of negative press and comments over the years - which is enough to drive anyone mad.
The couple have now moved to LA with their son, Archie.
Making it across the border mere hours before it closed, Meghan and Harry have been riding out the coronavirus pandemic in a secluded compound in Malibu.
And, thanks to the move, things have changed for the better.
"Meghan's thrilled to have escaped the chaos of London. She feels like a new person," a source close to the pair said last year. "On top of not being hounded by the British press 24/7, Meghan reportedly likes that she doesn't have to worry about following outdated royal protocol anymore."
She can now live a normal life.
"Meghan can go out in yoga pants and not be criticized for not following a dress code. She feels more relaxed and loves walking around fresh-faced with barely any makeup on."
And to make things even better for the pair...
It was reported that Harry and Meghan bought a $14.65 million mansion in Montecito, Santa Barbara... making them neighbors with Oprah and
Ellen DeGeneres.
But, that's not to say that everything has been plane sailing since the big move...
And it seems more royal drama has been unearthed.
Back in November, Prince Harry made a request to take part from across the pond in the royal family's annual Remembrance Day ceremony, the British day of memorial for those who died at war.
Harry, a veteran of the British Army, requested that a wreath be laid in his name at the Cenotaph, the London war memorial at the center of the Remembrance Day ceremony.
Reports at the time suggested that palace officials declined Harry's request without the Queen's knowledge.
But, according to the Daily Mail, the Queen actually made the call
herself
.
This is sure to have thrown a spanner in the works...
And the outlet reported that the Queen took "all of 2 seconds" to reject Harry's request. Yikes.
"Remembrance Sunday is sacrosanct when it comes to Her Majesty's diary," a palace source told the paper.
"It's one of the most important dates in her calendar and nothing is done without her knowledge. "People were suggesting the Palace's reaction to what Harry asked was petty. But it was the Queen's decision. And what's more, she actually had very strong views on the subject," the insider added.
The source continued...
"While she has enormous admiration for Harry's achievements both in and out of the military, this was seen as an example of his lack of understanding at what it means for him to be a non-working royal."
"The Queen is very firmly of the opinion that you can't pick and choose what you do when it comes to the institution. Either you are in—or you are out."
So what exactly did Harry do instead to mark the occasion?
Harry instead made a quiet visit to the Los Angeles National Cemetery with Meghan.
In honour of #RemembranceSunday, the Sussexes privately visited the Los Angeles National Cemetery earlier today. Th… https://t.co/NdemI8gDyI

— Omid Scobie (@Omid Scobie)1604866464.0
According to Harper's Bazaar, the Sussexes laid flowers at the graves of Commonwealth soldiers and placed a wreath at the cemetery's obelisk. For more on the royals, scroll on to find out why people have slammed Meghan and Harry after hearing Archie's voice for the first time...